"Fear Not" Embroidery Kit
Wishlist
Transfer Pen

Every kit includes a transfer pen.

If you'd like to remove your transfer pen, use discount code: REMOVEPEN at checkout
Add a gift message

Please use the "note" section in checkout to include a free gift message. When you include a note, the shipping cost is automatically removed from the order.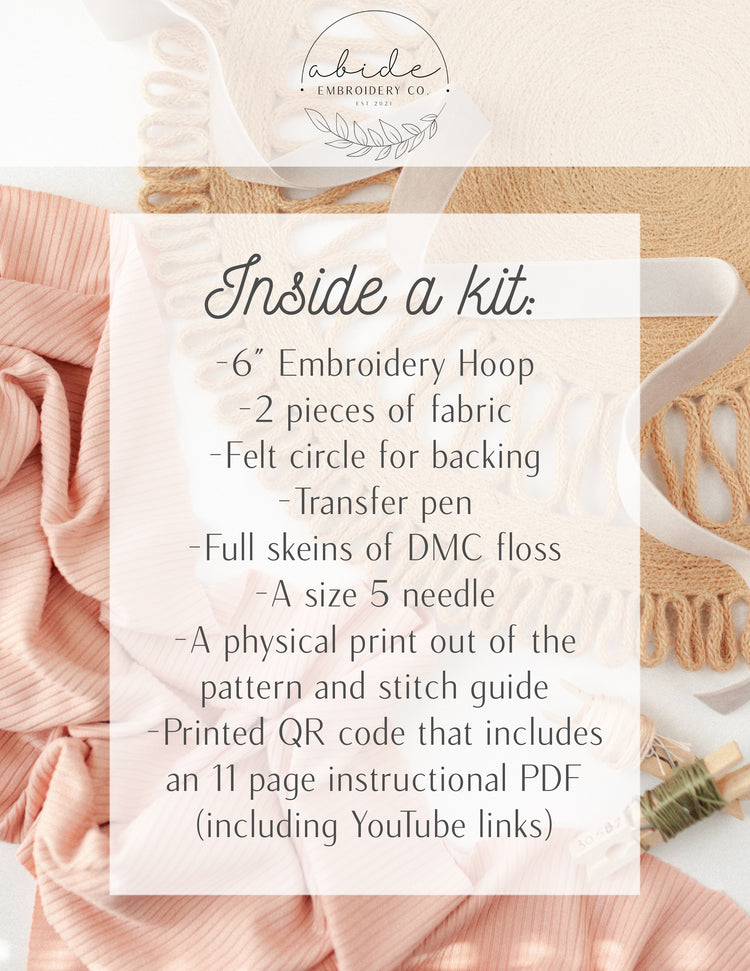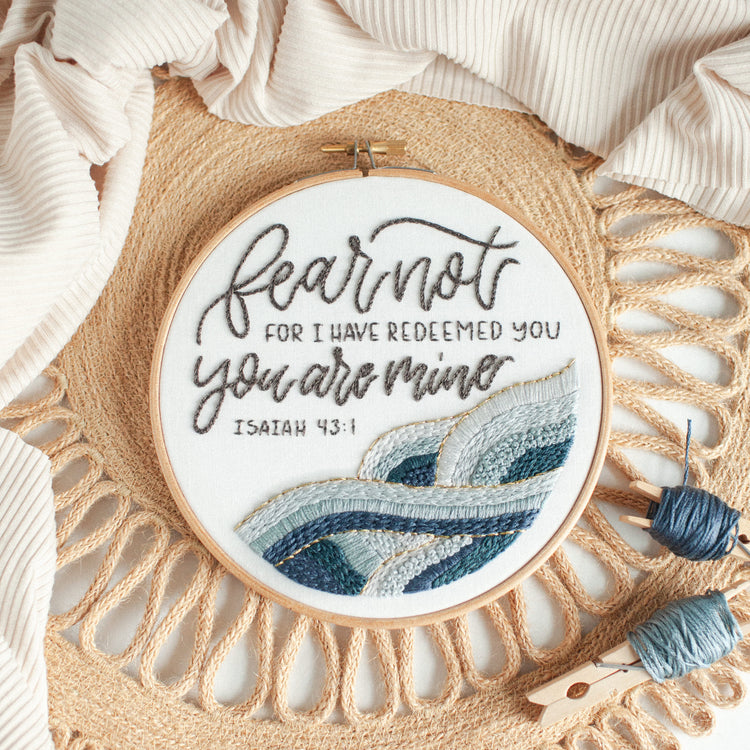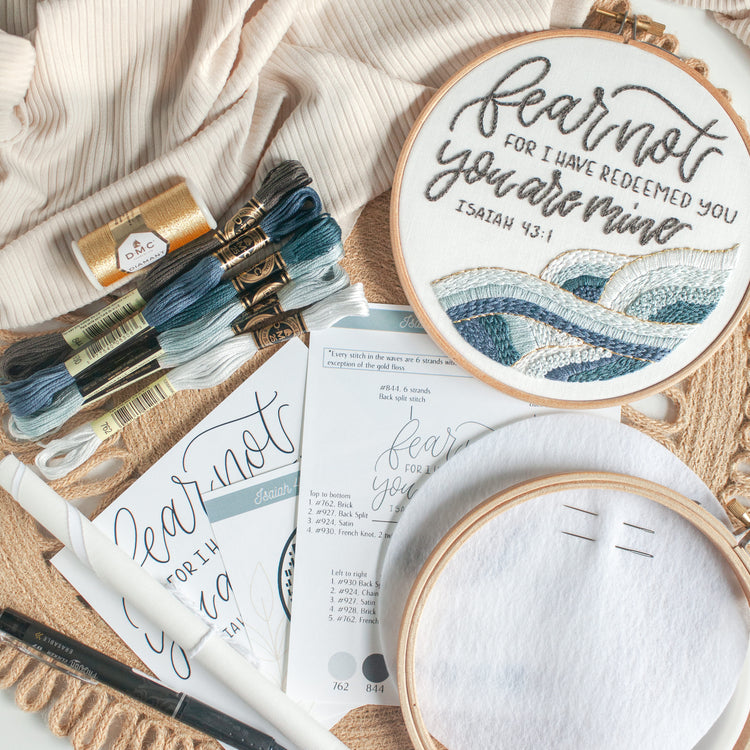 Product Details
"Fear not, for I have redeemed you; I have called you by name, you are mine." —Isaiah 43:1
This pattern is designed for a confident first-time stitcher or a stitcher with a few embroidery projects under their belt. While the stitches aren't any more complicated than other designs I offer, there is a lot more going on in this piece. "Do I think you can do it if you've never stitched before?" 100%. And if you ever have a hard time, I am just one email away!
Inside every kit is:
- A 6" hoop
- 2 pieces of fabric
- Felt backing
- Transfer Pen
- Full skeins of DMC floss
- Two needles
- A physical print out of the pattern
- Digital access to a step by step video tutorial.
- A digital version of the full DIY pattern guide and a clickable PDF with YouTube tutorials from Abide Embroidery Co. teaching you the stitches used in this pattern. This digital guide includes 14 pages of instructions on starting hoop and transferring the pattern, a stitch and color guide, and how to finish your hoop. This will be inside your kit as a QR code.
Which is right for you—a PDF or a Kit? 🤔
Kits are great for
🎁Gifting! The kit comes in a perfectly packaged box that makes the perfect gift!
✂️A first time stitchers who is intimidated by buying their own supplies!
🌋 Someone who doesn't have access to the common craft store and needs someone else to buy supplies for them!
Peaceful and relaxing project
My first purchase from Abide and I was so impressed! The packaging, the quality of the items included, and the excellently thorough PDF guide were all amazing. I haven't embroidered in almost 20 years and it was easy to jump right into it and the YouTube videos were so clear and helpful. I love the finished product so much, I loved the process, and I love seeing the verse throughout the day. A win of a purchase all around!
So Grateful for Abide Embroidery
I am walking through a big transition in my life and I ordered an Abide Embroidery project to bring some stability and constancy. Appreciate the spiritual reminder and the ease that this company makes a meaningful handicraft.
Beautiful Reminder
I love this kit! Sarah hit it out of the park again! Easy to follow guide for the beginner and I loved having everything I need shipped in one kit. The finished product is a beautiful reminder that I am HIS!!!
Isaiah 43:1
I ordered my first kit and I am very pleased with the items in the kit. My favorite part of the kit is the Stitch guide printed on stock paper. I have been embroidering for years and have all the supplies that usually come in kits but sometimes you just want to treat yourself. This kit would be great for beginners.
Fabulous pattern!
This is only my fourth embroidery project but the pdf guide and videos make it totally doable for a beginner. I really love this verse and design, and it's been really beautiful to think of and pray for the friend I'm making it for while I'm stitching. I also love buying the kits - everything you need all in one place and no trips to the craft store. And so easy to keep tidy with the full skeins of floss! I've really fallen in love with this hobby and look forward to pockets of time throughout the day when I can pick up my project for a little bit!