"Yet Will I Hope in Him" Embroidery Digital Download
Wishlist
Transfer Pen

Every kit includes a transfer pen.

If you'd like to remove your transfer pen, use discount code: REMOVEPEN at checkout
Add a gift message

Please use the "note" section in checkout to include a free gift message. When you include a note, the shipping cost is automatically removed from the order.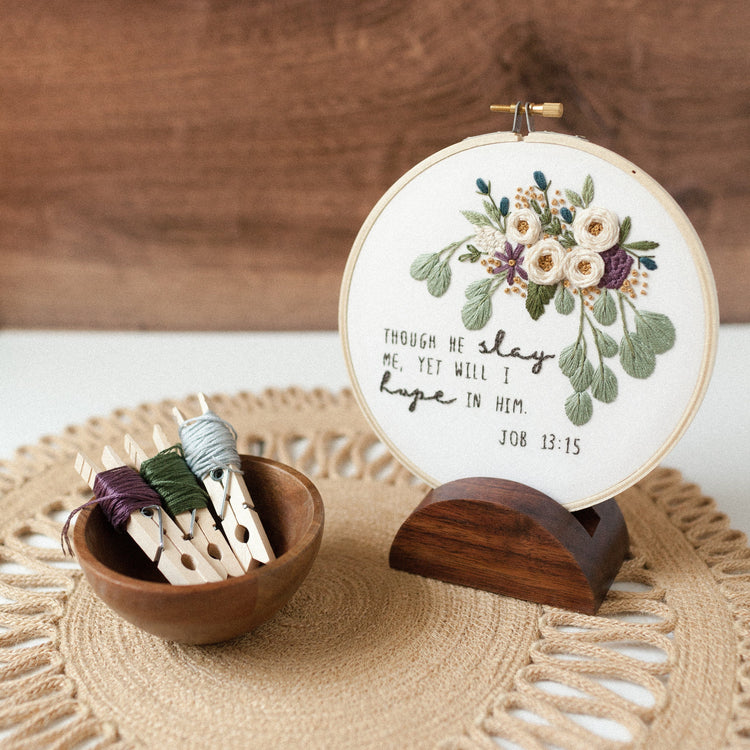 Product Details
NOTE: This is an INSTANT download PDF pattern. You will not recieve a physical object in the mail.
"Though He Slay Me, Yet Will I Hope In Him" Job 13:15. A reminder that the Lord will bring us through trials and even in doing so, we can find hope in Him. This design fits a 6" hoop.
This PDF is perfect for brand new stitchers who want to learn more about purchasing their own craft supplies or an avid embroidery artist who has all their supplies already at home! 
Worried you can't do it? Don't be! Most of my stitchers are brand new to embroidery and find great help with YouTube tutorials that are included with each design! Need more assurance? Reach out and I'd be happy to alleviate any fears you may have!
- Materials list
- Starting hoop & transferring design instructions
- Stitch and color guide
- 6" pattern design
- Instructions on finishing hoop
- YouTube links for tutorials on every step from starting your hoop, to specific stitches used in this pattern, and finishing your hoop.
Which is right for you—a PDF or a Kit? 🤔
PDFs are great for
✂️Experienced stitchers who already have plenty of supplies
✌🏼Someone who wants to make multiple hoops of one design
📚 The learner—someone who wants to take the time to learn about the supplies and shop for it themselves.
Outstanding
These are beautiful and detailed instructions. I emailed with questions since I was a newbie and she got right back to me!
Beginner here, such a beautiful pattern and easy to follow, love!
Beautiful
I love this pattern. This verse is so wonderful! And this latter was easy to follow!
Such a pretty design
I was really drawn to the florals on this pattern. I was not disappointed- it looks even prettier in real life. The pattern is so detailed and makes in easy to complete the project.
Gorgeous and Fun Pattern!
I used this pattern on a kitchen towel for a Mother's Day gift to my mom. The towel was white with a bit of texture, and this came out beautifully! The colors are calming yet attractive, and the variety of stitches really catch the eye. I am somewhat of a beginner. This was probably my fourth or fifth project, and it was very doable yet still challenged and introduced me to new stitches, all of which were taught to me through the Abide Embroidery YouTube tutorials. I'm looking forward to doing this one again!