"For I Am Gentle and Lowly in Heart" Embroidery Digital Download
Wishlist
Transfer Pen

Every kit includes a transfer pen.

If you'd like to remove your transfer pen, use discount code: REMOVEPEN at checkout
Add a gift message

Please use the "note" section in checkout to include a free gift message. When you include a note, the shipping cost is automatically removed from the order.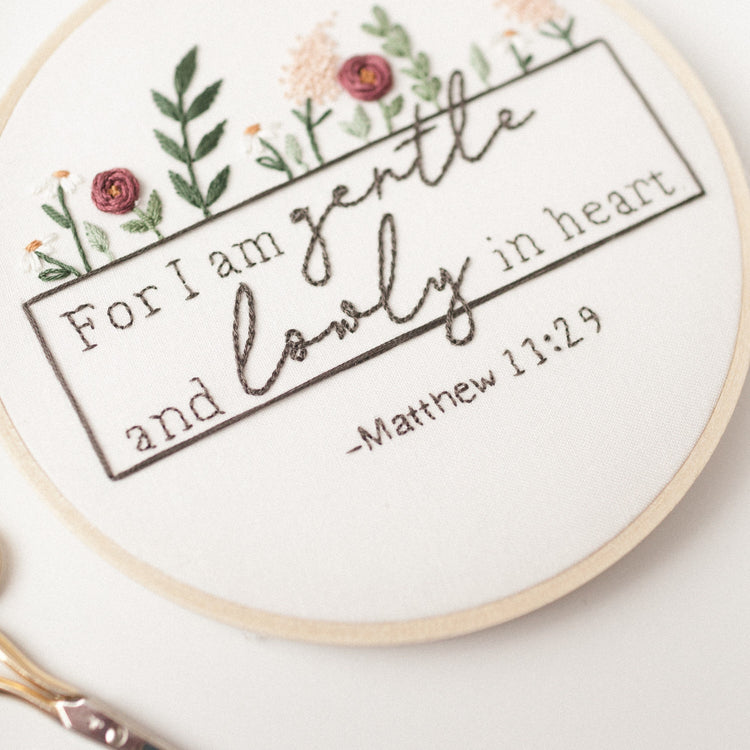 Product Details
NOTE: This is an INSTANT download PDF pattern. You will not recieve a physical object in the mail.
"For I am Gentle and Lowly in heart."-Matthew 11:29. A reminder of the heart of Christ for his people. This verse will especially ring true for those have enjoyed Dane Ortlund's book, Gentle and Lowly from Crossway. This pattern fits an 6" hoop.
This PDF is perfect for brand new stitchers who want to learn more about purchasing their own craft supplies or an avid embroidery artist who has all their supplies already at home! 
Worried you can't do it? Don't be! Most of my stitchers are brand new to embroidery and find great help with YouTube tutorials that are included with each design! Need more assurance? Reach out and I'd be happy to alleviate any fears you may have!
- Materials list
- Starting hoop & transferring design instructions
- Stitch and color guide
- 6" pattern design
- Instructions on finishing hoop
- YouTube links for tutorials on every step from starting your hoop, to specific stitches used in this pattern, and finishing your hoop.
Which is right for you—a PDF or a Kit? 🤔
PDFs are great for
✂️Experienced stitchers who already have plenty of supplies
✌🏼Someone who wants to make multiple hoops of one design
📚 The learner—someone who wants to take the time to learn about the supplies and shop for it themselves.
"For I Am Gentle and Lowly in Heart,"
I loved doing this embroidery piece - a great reminder, easy and beautiful!
Great instruction!
Sarah writes wonderful, easy to follow instructions and is very responsive to any questions I have.
Sweet and perfect.
"Gentle and Lowly" by Dane Ortlund is the best book i've read in a long time…so buying this pattern was a no-brainer! I'm currently finishing up my first go at it, and I'm stitching it for a dear friend who also loves that book. I love that these patterns are all so beautiful and edifying…i look forward to stitching them again and again as gifts!
a gift for a sweet friend
My friend and I are reading the book Gentle and Lowly together, and when I found this beautiful embroidery pattern in the Abide shop, I bought it right away. The instructions and suggestions are spot on, and even though I'm a seasoned stitcher, I learned some new tips and techniques from Sarah and the great instructions. Can't wait to start my next project!
Great verse, beautiful piece.
This pattern is beautiful, fun to do and inspiring to look at! Love the colors and it is a great companion piece while I read and dwell on the book.