"He Is Risen" Embroidery Digital Download (2022 Easter Stitch-Along)
Wishlist
Transfer Pen

Every kit includes a transfer pen.

If you'd like to remove your transfer pen, use discount code: REMOVEPEN at checkout
Add a gift message

Please use the "note" section in checkout to include a free gift message. When you include a note, the shipping cost is automatically removed from the order.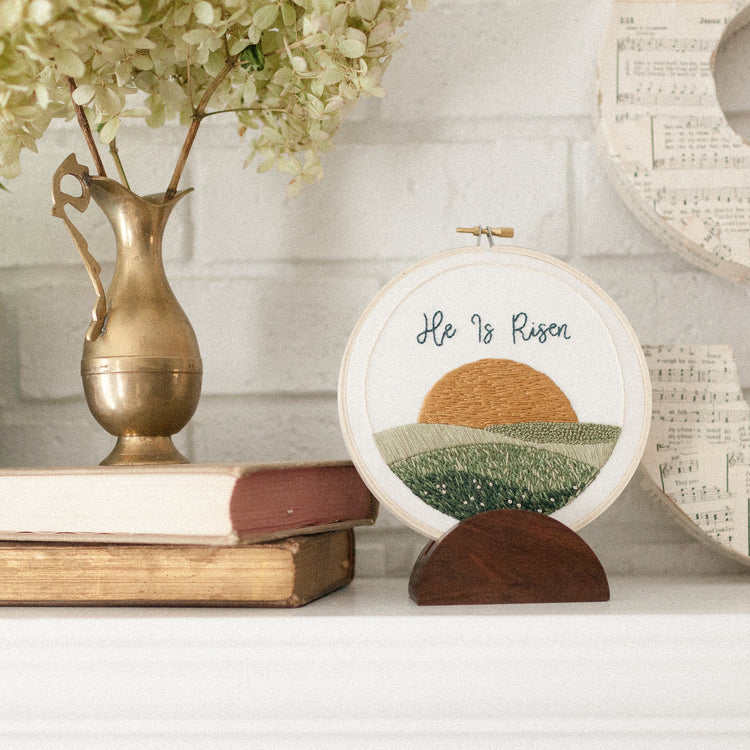 Product Details
NOTE: This is an INSTANT download PDF pattern. You will not recieve a physical object in the mail.
Originally a 12 day stitch-along, this design of "He is Risen" comes with step by step videos from start to finish. This is a great starting point for those who would like to have their "hand's held" through making it. The design fit a 6" hoop. 
This PDF is perfect for brand new stitchers who want to learn more about purchasing their own craft supplies or an avid embroidery artist who has all their supplies already at home! 
Worried you can't do it? Don't be! Most of my stitchers are brand new to embroidery and find great help with YouTube tutorials that are included with each design! Need more assurance? Reach out and I'd be happy to alleviate any fears you may have!
- Materials list
- Starting hoop & transferring design instructions
- Stitch and color guide
- 6" pattern design
- Instructions on finishing hoop
- YouTube links for tutorials on every step from starting your hoop, to specific stitches used in this pattern, and finishing your hoop.
Which is right for you—a PDF or a Kit? 🤔
PDFs are great for
✂️Experienced stitchers who already have plenty of supplies
✌🏼Someone who wants to make multiple hoops of one design
📚 The learner—someone who wants to take the time to learn about the supplies and shop for it themselves.
Super Easy and Fun
The He Is Risen download was super easy to work with and to complete. I'm not a beginner nor am I an expert, so this was perfect for me. A beginner would have an easy time working the stitches and learning some new skills, while someone more advanced would enjoy a pattern that is familiar stitch wise yet fun enough for their level. I highly recommend this pattern, and even more so, have fun while working on the He Is Risen project! Its also excellent for stitching while praying, if you do that or want to try.
What joy!
It was a joy to join Sarah and other stitchers for this stitch-along! Sarah's instruction is easy to follow and her Christ centered focus helps draw us closer to Jesus as we stitch.
Beautiful Design!
I loved stitching the as a part of the Easter stitch-along. The design is beautiful and I'm so pleased with how it turned out, it's still on my mantle many months later. The instructions were easy to follow and the pattern was very clear.
LOVE
Beautiful pattern, easy instructions to follow and all around a success! I have purchased many patterns from Sarah, her designs are beautiful and God focused. The reflection and connection w God while working on her patterns is amazing! I love her work!
Loved it!
I loved the stitch-a-long and videos that went with! It was a wonderful way to focus on Christ during the Easter season. This was only my second pattern ever and the videos with instruction made it so easy!