"Abide in Christ" Embroidery Kit
Wishlist
Transfer Pen

Every kit includes a transfer pen.

If you'd like to remove your transfer pen, use discount code: REMOVEPEN at checkout
Add a gift message

Please use the "note" section in checkout to include a free gift message. When you include a note, the shipping cost is automatically removed from the order.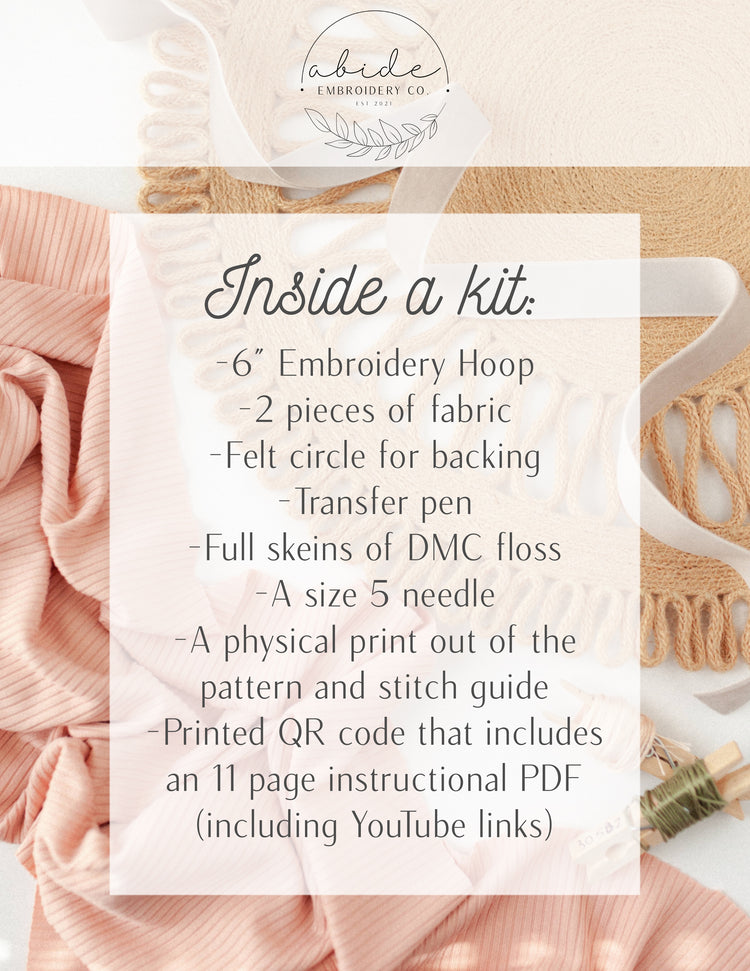 Product Details
"Abide in me, and I in you. As the branch cannot bear fruit by itself, unless it abides in the vine, neither can you, unless you abide in me." John 15:4

This kit is perfect for brand new stitchers, or an avid embroidery artist who likes their supplies handed to them. Inside the kit you will be given everything you need to complete one hoop.
Worried you can't do it? Don't be! Most of my stitchers are brand new to embroidery and find great help with YouTube tutorials that are included in every kit! Need more assurance? This is our first kit that includes STEP BY STEP VIDEO INSTRUCTIONS!
Inside every kit is:
- A 6" hoop
- 2 pieces of fabric
- Felt backing
- Transfer Pen
- Full skeins of DMC floss
- A size 5 embroidery needle
- A physical print out of the pattern
- Digital access to a step by step video tutorial.
- A digital version of the full DIY pattern guide and a clickable PDF with YouTube tutorials from Abide Embroidery Co. This digital guide includes instructions on starting hoop and transferring the pattern, a stitch and color guide, and how to finish your hoop. This will be inside your kit as a QR code.
Which is right for you—a PDF or a Kit? 🤔
Kits are great for
🎁Gifting! The kit comes in a perfectly packaged box that makes the perfect gift!
✂️A first-time stitcher who is intimidated by buying their own supplies!
🌋 Someone who doesn't have access to the common craft store and needs someone else to buy supplies for them!
Great for getting back into embroidery!
This kit is beautifully laid out! It gave me the confidence to get back into embroidery. I am a beginner. The floss in the kit are a combo of stylish and muted colors- not basic primary colors like some Amazon kits. My favorite thing is that I can mediate on the word and God's goodness while doing these.
Perfect Beginner Kit
I purchased this kit not knowing anything about embroidery, but desiring to try something knew. The instructions and videos were so well done and so helpful! I loved the finished product! It is a lovely little addition to our home. I now have a new hobby thanks to Abide Embroidery Co.
Loved it!
I got the Abide in Christ set and the YouTube instructional videos were perfect! I had never embroidered before and I absolutely love how it turned out. I love that it came with everything included so I could just pull out the box and embroider as much as I wanted without it being a hassle.
Beautiful pattern and helpful tutorial
I had never done any embroidery before but ordered this kit to learn and it turned out so beautifully! The videos made it easy to learn and follow and I love how it turned out!
Perfect for a Beginning Stitcher
The "Abide in Christ" kit was my first attempt at embroidery, and it was perfect. Each stitch was explained well and easily learned. I loved the videos so much and I love the finished product.