"He Has Borne Our Griefs" Embroidery Kit
Wishlist
Transfer Pen

Every kit includes a transfer pen.

If you'd like to remove your transfer pen, use discount code: REMOVEPEN at checkout
Gift Wrapping 🎁

Purchasing your kits as a gift? Let me know and I'll make sure they are packaged in such a way that they are gift ready!
Add a gift message

Please use the "note" section in checkout to include a free gift message. When you include a note, the shipping cost is automatically removed from the order.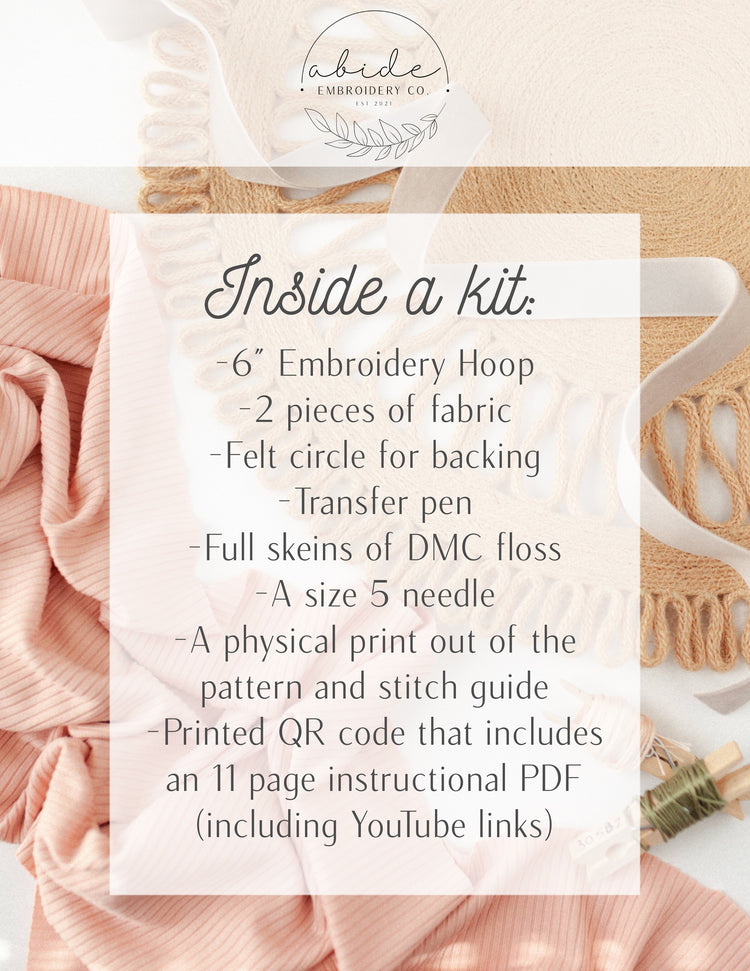 Product Details
"He has borne our griefs and carried our sorrows."-Isaiah 53:4. A verse that brings comfort to the broken-hearted and reminds us the cost that Christ paid for us.
This kit is perfect for brand new stitchers, or an avid embroidery artist who likes their supplies handed to them. Inside the kit you will be given everything you need to complete one hoop while leaving you with plenty of leftover floss for another project. 
Worried you can't do it? Don't be! Most of my stitchers are brand new to embroidery and find great help with YouTube tutorials that are included in every kit! Need more assurance? Reach out and I'd be happy to alleviate any fears you may have!
Inside every kit is:
- A 6" hoop
- 2 pieces of fabric
- Felt backing
- Transfer Pen
- Full skeins of DMC floss
- A size 5 embroidery needle
- A physical print out of the pattern
- A digital version of the full DIY pattern guide and a clickable PDF with YouTube tutorials from other Abide Embroidery Co. This digital guide includes instructions on starting hoop and transferring the pattern, a stitch and color guide, and how to finish your hoop. This will be inside your kit as a QR code.
Which is right for you—a PDF or a Kit? 🤔
Kits are great for
🎁Gifting! The kit comes in a perfectly packaged box that makes the perfect gift!
✂️A first time stitchers who is intimidated by buying their own supplies!
🌋 Someone who doesn't have access to the common craft store and needs someone else to buy supplies for them!
Wonderful
I just started and this is a wonderful kit. It is coming together nicely. The instructions and resources are good. Can't wait to finish it and then look for another one to do!
Beautiful!
This is a beautiful design! I'm excited to gift the finished product to a friend.
I love it
I have enjoyed following Abide Embroidery on Instagram and participating in the last to years Advent stitch alongs. This was a beautiful put together kit, it is nice to be able to buy everything in one place instead of searching for the right colors...
Words of comfort
Sweetly packaged and excellent instructions. I love these kits! This one especially was beautiful as I stitched it for my sister in law who recently lost her mom. Love stitching Scripture using Sarah's lovely patterns!