"Bind My Wandering by Heart to Thee" Embroidery Kit
Wishlist
Hurry, only 4 items left in stock!
Transfer Pen

Every kit includes a transfer pen.

If you'd like to remove your transfer pen, use discount code: REMOVEPEN at checkout
Gift Wrapping 🎁

Purchasing your kits as a gift? Let me know and I'll make sure they are packaged in such a way that they are gift ready!
Add a gift message

Please use the "note" section in checkout to include a free gift message. When you include a note, the shipping cost is automatically removed from the order.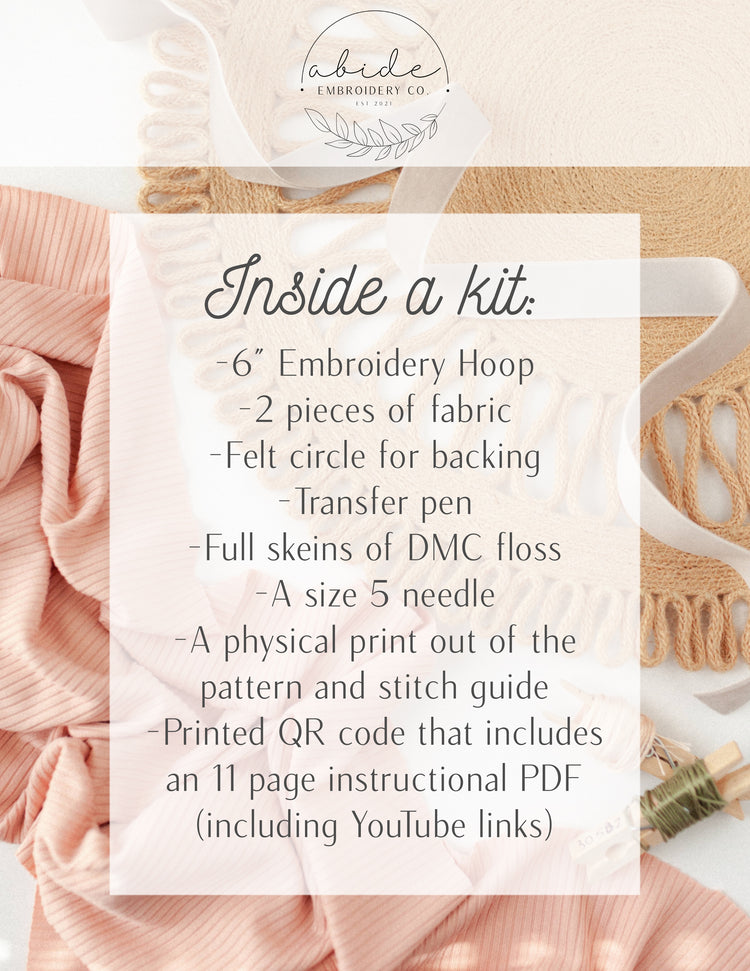 Product Details
"Bind My Wandering Heart to Thee"

Discover the joy of embroidery with our all-inclusive kit, featuring the timeless hymn, "Come, Thou Fount." Perfect for both newbie stitchers and seasoned artists who appreciate the convenience of a ready-made kit!

Inside this kit, you'll have everything you need to create a stunning hoop, with plenty of leftover floss for your next project. Don't worry if you're new to embroidery—most of our stitchers find the YouTube tutorials included in every kit incredibly helpful! And if you have any doubts, reach out to us for assistance; we're here to ease your concerns! 🤗
Inside every kit, you'll find:
 A 6" embroidery hoop
 2 pieces of fabric
 Felt backing for a polished finish
 Transfer Pen for easy design transfer
 Full skeins of vibrant DMC floss
 A size 5 embroidery needle for precision
 A physical printout of the pattern
 A digital DIY pattern guide and a clickable PDF with YouTube tutorials from other Abide Embroidery Co. This digital guide includes instructions on starting the hoop and transferring the pattern, a stitch and color guide, and guidance on finishing your hoop, accessible via a QR code in your kit!
Not sure whether to choose a PDF or a Kit? 🤔
Kits are fantastic for:
🎁 Gifting! Our kits come perfectly packaged, making them ideal gifts!
✂️ First-time stitchers who may feel overwhelmed by buying supplies separately
🌋 Those without easy access to a craft store who prefer someone else to handle supply procurement!
What a Gift
What a gift this project was to me! As a first-time stitcher, I would 10/10 recommend this. Everything was laid out simply and clearly and was SO easy to follow. I never once was confused about what I needed to do. I'm so proud of myself for getting off my phone (what a gift!) and creating something beautiful. I'm already shopping for my next project.
"Bind My Wandering Heart…" kit
This was an amazing kit for me to start with! I've never done this sort of embroidery work before, but the instructions were clear and, since all the supplies were included, it was easypeasy! Love this shop and def would shop here again!
Such a lovely kit
I'm enjoying this embroidery project tremendously. I've done a lot of counted thread embroidery, but not as much embroidery like this. I love that there is a variety of stitches to learn. There is a helpful digital guide that told me how to get the hoop set up, and links to videos showing how to do each type of stitch. The kit came with everything I needed, even a Frixiin pen to transfer the pattern.
So simple and beautiful!
I have purchased 3 embroidery kits and knowing that all the supplies are right there for me is what makes doing a craft project like this possible! Also, there is something so cathartic about using my hands to create. Finally, meditating on God's word while completing this project was such a peaceful and wonderful thing for me. Thank YOU!!!
Delightful
I thoroughly enjoyed crafting my Abide Embroidery Co kit! I hung it in my kitchen so I can look at it often.