"He Is Risen" Embroidery Digital Download (2023 Easter Stitch-Along)
Wishlist
Transfer Pen

Every kit includes a transfer pen.

If you'd like to remove your transfer pen, use discount code: REMOVEPEN at checkout
Gift Wrapping 🎁

Purchasing your kits as a gift? Let me know and I'll make sure they are packaged in such a way that they are gift ready!
Add a gift message

Please use the "note" section in checkout to include a free gift message. When you include a note, the shipping cost is automatically removed from the order.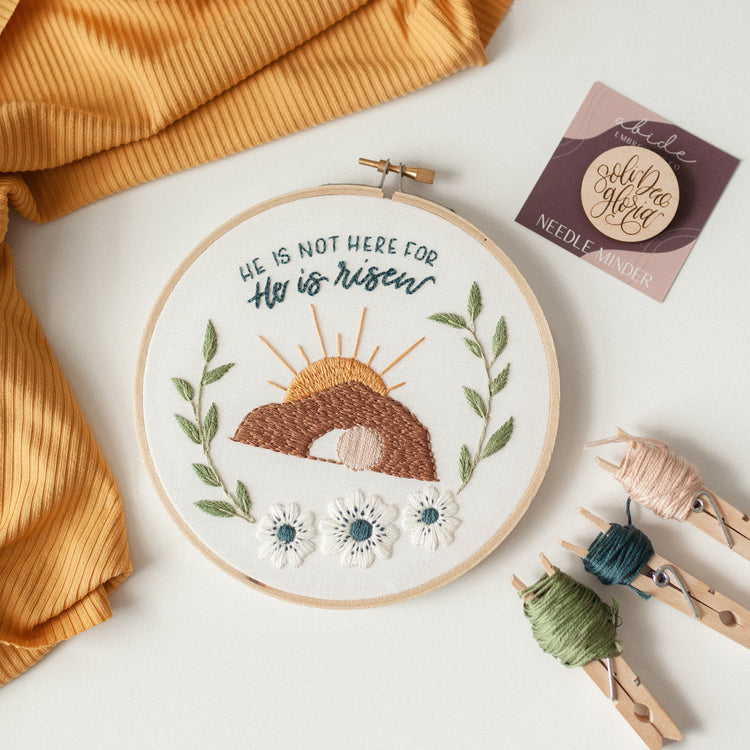 Product Details
NOTE: This is an INSTANT download PDF pattern. You will not recieve a physical object in the mail.
"He is not here, for he has risen"—Matthew 28:6
This Easter design was a part of the 2023 Easter Stitch-Along. By purchasing this design you have access to both the daily videos, and the private Facebook group. 

The pattern fits a 6" hoop.
Included in the PDF: 

- Materials list
- Starting hoop & transferring design instructions
- Stitch and color guide
- 6" pattern design
- Instructions on finishing hoop
- YouTube links for daily tutorials walking you through every step of the project
- Daily Devotionals 
Which is right for you—a PDF or a Kit? 🤔
PDFs are great for
✂️Experienced stitchers who already have plenty of supplies
✌🏼Someone who wants to make multiple hoops of one design
📚 The learner—someone who wants to take the time to learn about the supplies and shop for it themselves.

Please note that this pattern was created and copyrighted by Sarah Mesa with Abide Embroidery Co. This pattern is for personal use only. Please do not sell this pattern or any created pieces you have made from this pattern. Thank you!
I LOVED this project!
The videos were so very helpful in keeping me on track and helping me finish my project, as well as guiding my stitching by demonstrating it and giving practica tips. I learned a better way to tie off my stitches on the back, how to do French knots, and the long-short stitches for filling in a large area. Tips for finishing the hoop were also helpful. I loved that all the videos dropped at one time because I was able to work ahead while on a road trip, knowing I wouldn't be able to work the following week. My two daughters ages 9 and 13 also did this project with me and it sparked in them a love of embroidery.
What a beautiful piece!
I love that this comes with a step by step tutorial - AND links to videos. I'm a visual learner so that definitely helps me learn the stitches and make this pretty piece on my own!
Loved this!
It was so fun to participate in the Lent stitch-along. The videos were clear and easy to follow, the devotions attached were great, & it was fun to have a FB community of people to share progress with and ask clarifying questions about technique. Looking forward to the next one!
He is Risen
Love my Pdf with such beautiful pictures, great step by step instructions, so colorful but clean and in addition very well done videos. Awesome. Loovveeee it!!!! 😍😍😍😍❤️❤️